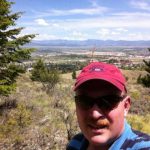 I routinely field calls from potential customers asking about our online Energy Auditor course. I'm asked questions like: How hard is the course? Is there lot of math? How long is the course? How much study time will I have each week? I provide answers like; That depends on you and your study skills. There is some math, but it's mostly geometry and formulas needed for calculating data on a home. The course is 8 weeks long. And finally: To be successful in the course you should expect to spend 5-7 hours per week in study and reading. To be honest I put that last time requirement out there like it's nothing, even for those that work full time. After all it's only a few evenings a week plus some weekend time, right? No big deal.
Well I'm about to get a taste of my own medicine.

Up to my Neck in Busy
I'm enrolled in a course called Fundamentals of Online Education: Planning and Application which begins later this month. This is a MOOC (massive open online course) generously delivered by Georgia Tech through Coursera and taught by Dr. Fatimah Wirth, who is Georgia Tech's Instructional Designer. The course is 6 weeks long and has a workload of 5-7 hours per week. (Sound familiar?)
Like many students of Saturn Online, I work full time. I also have two kids in middle school with all the stuff they do, and a wife who wants me to finish the basement that I've been finishing since we built our house 10 years ago. Plus conference season is starting. ACI Northwest is just around the corner, two weeks later is the #RESNET13 conference, then preparations for the #ACI13 National Conference where I will be presenting "Innovative Online Training" with Amanda Evans and Chris Compton. Oh and a 10-day family vacation thrown in for good measure. How in the world will I find time to study 5-7 hours per week? I guess we shall see.
Why Take Learning Design Courses?
"So why are you taking this course Darrel?" Well I'm glad you asked dear reader. At Saturn we are constantly working to improve our online courses through proper learning design. I hope to take what I learn about learning design and further improve Saturn's course offerings. We want to make our courses easier for you to use, consumable in small chunks, and always on topic, not wasting your time with information not relevant to the course objectives. The courses also need to capture and keep your attention, immerse you in the lessons, and get you to invest into your own learning. It's a tall order to be sure, but well worth the effort.
Graduates of our courses are generally satisfied with their experience, telling us that they learned a lot and that they feel confident they will achieve whatever their goals were for taking the course. I'm anxious to see if my experience with my course will also be good. After all, an online course designed and taught by Georgia Tech's instructional designer should be the ultimate online learning design course, right? Again I guess we shall see.