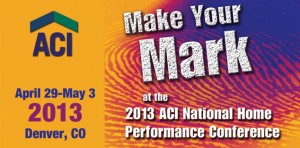 Are you ready for the 2013 ACI National Performance Home Conference?

Affordable Comfort, Inc 2013 National Home Performance Conference
When: April 29th – May 3, 2013
Where: Denver, CO
Details: Founded in 1986, ACI is a not-for-profit organization that has become the go-to resource for information, education and best practices in the home performance and weatherization industry. ACI national and regional events provide the forum for thought leadership, bringing together the best and the brightest—and the eager to learn—to solve technical problems, exchange new techniques, source new tools and materials and build the momentum of this fast-growing industry.

Find out more by visiting the ACI website for the conference.